Myrtle Beach, SC – The Southeastern Chapter of the Society of Nuclear Medicine (SECSNM) will honor William "Bill" Martin, MD, former Professor of Radiology and Radiological Services and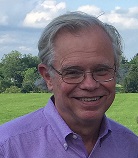 Professor of Medicine, Division of Endocrinology at Vanderbilt University Medical Center in Nashville with the presentation of the Marshall Brucer Award, the highest honor the SECSNM can bestow upon a member. The Brucer Award will be presented to Doctor Martin at the October 5-7, 2018 SECSNM Annual Meeting at the Sheraton Hotel in Myrtle Beach, South Carolina to recognize his many years of service to nuclear medicine as well as his leadership in organized medicine at local, state and national levels.
Doctor Martin received his undergraduate degree from the College of William and Mary in Williamsburg, Virginia in 1971 and his medical degree from the Medical University of South Carolina in Charleston in 1975. Following completion of his internal medicine residency at Washington Hospital Center in 1978, Doctor Martin went on to complete a fellowship in Endocrinology and Metabolism at the University of Virginia in Charlottesville.
He worked as a clinical endocrinologist in private practice from 1980-1993 initially in Honolulu and subsequently in Oak Ridge and Knoxville, Tennessee at which point he moved to Nashville for a residency in nuclear medicine. Following the completion of his nuclear medicine residency, Doctor Martin joined the faculty of Vanderbilt University Medical Center as an Assistant Professor of Radiology and Radiological Sciences and Medicine.
At Vanderbilt, Doctor Martin served in a number of capacities and earned advancements leading up to his retirement in June, 2017.  This included Medical Director of the Nuclear Medicine Student Technology Program, Director of the Nuclear Medicine Residency Training Program, Medical Director of Nuclear Medicine, Associate Professor and then full Professor of Radiology and Radiological Sciences and Professor Medicine, Division of Endocrinology.
Dr. Martin joined the Society of Nuclear Medicine in 1993, serving on the Scientific Program Committee, Reviewer of submitted abstracts. the Journal of Nuclear Medicine's Editorial Board and reviewer for SNMMI's Online Teaching Files.  For the Southeastern Chapter, Doctor Martin served as Program Committee member, Program Chair, CME Coordinator, and served on the SEC Council from 1997 – 2001. He then served through the officer rotation as Secretary, President-Elect and as President for 2003-2004.  He served as the chairman of the Chapter's Finance Committee from 2004 to 2014.
Doctor Martin was also a member (and Fellow) of the American Society of Nuclear Cardiology, The Radiological Society of North America, The Endocrine Society and the Society of Computed Tomography and Magnetic Resonance, serving as a reviewer for a number of their Journals. He has extensively volunteered his time and talent at Vanderbilt on many committees.
A prolific author, lecturer and researcher, Doctor Martin authored or co-authored 57 articles in refereed journals, authored or co-authored 35 books or book chapters, given or co-written 37 presentations at scientific meetings and given 72 invited presentations.
Dr. Martin has been married to Cindy since 1983.  They have two grown children and two grandchildren.  Following his retirement from Vanderbilt, he and Cindy have continued to be active in water sports, hiking, pickleball, snow skiing, physical fitness, and traveling.
The Marshall Brucer Award is given at the Southeastern Chapter meeting to a chapter member who has dedicated his life to the specialty of nuclear medicine, and has given distinguished service to the chapter.
There are few people who, during a lifetime, make a substantial impact on a specialty in medicine.  The Southeastern Chapter was fortunate to have had such a person amongst its members – Marshall Brucer.  He was an author, storyteller and educator, and almost single handedly organized and formed the Southeastern Chapter of the Society of Nuclear Medicine.  For all of his contributions to the specialty and the Society, the Marshall Brucer Award was created in 1991.